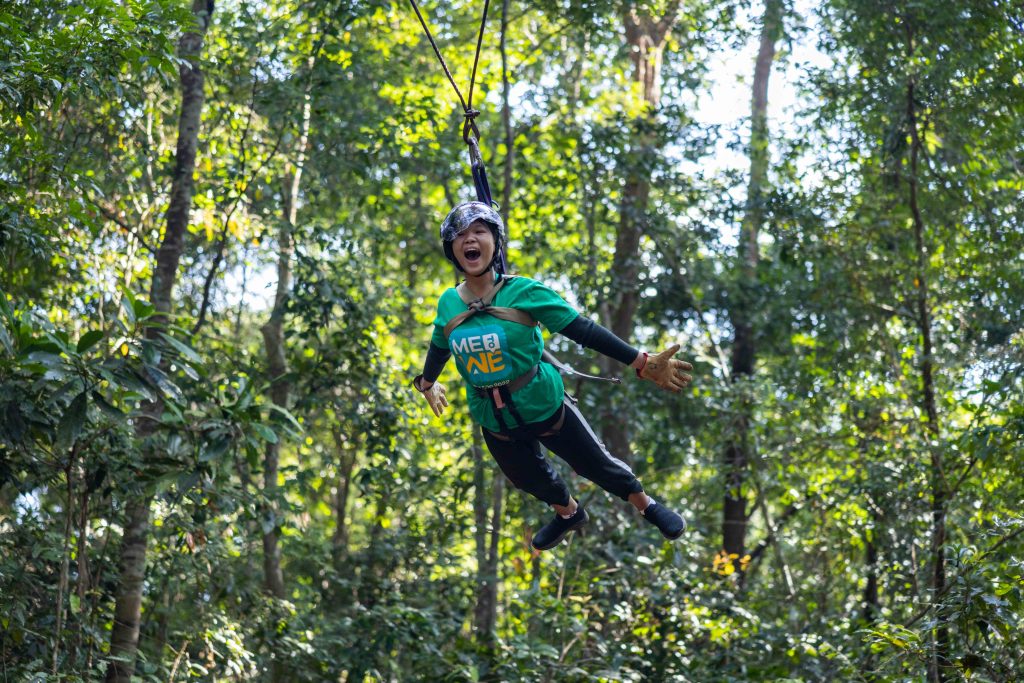 ADRA Cambodia would like to introduce to you the Jombok Hoas Adventure Learning Centre as an opportunity for the students and faculty of your institution to have an unforgettable outdoor education experience. 
Jombok Hoas, derived from the Khmer words for "flying Jombok tree", is about creating experiences and showing people of all ages that with a little belief in themselves and the people around them, they can really do anything that they set their minds to. Principles learned here can be actively applied for both your staff and students for their betterment and that of the people around them.
The Jombok Hoas Adventure Learning Centre, located in the Rovieng district of Preah Vihear Province, has been helping people for over 17 years in Developing Teamwork, Boosting Confidence and Thinking Creatively all in an outdoor learning environment that promotes a deeper appreciation and understanding of nature.  The facilities provide an excellent location for outdoor educational retreats, staff team building, and also is an excellent environment for integrated learning and activity workshops in a natural setting. 
With over 30 adventure learning activities to choose from, Jombok Hoas can specifically tailor make a program to fit your school's needs.  Activities include zip lines ranging in length from 350 to a truly awesome 600 m, giant swings, swinging bridge, canopy walk, giant spider webs and heaps more amazing team building and problem-solving activities. A typical 2-4 day custom designed program with challenges and group/class activities will be put together to maximize the potential of each student in your team.  As well the natural wildlife at Jombok Hoas is great for young and old to develop appreciation for nature and wildlife.  To find additional info please contact our team or myself through our contact information below.
We are hosting a special experiential program on May 7-9, 2023 and we invite one or two of your key team leaders to come and participate in a 2 day program free of charge including meals, accommodation, and transportation to see if Jombok Hoas is the right place for your school's outdoor education needs.
We hope to see you soon, so please contact us!
Mark Schwisow
Country Director (012-813-213)
Adventist Development and Relief Agency (ADRA) Cambodia
JBH – Phone:  011 400 995 | 010 400 995 | 077-398-477
Website: https://adracambodia.org/jombok-hoas/
Email: [email protected]
Facebook: https://www.facebook.com/JombokHoas