Below we have resources available to access and use:
Content will be available to download soon.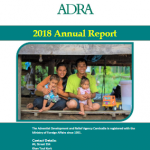 Once again 2018 has given our team so many opportunities to see that God has blessed ADRA Cambodia in fulfilling our vision to reflect God's character of love for the poor and vulnerable.   It was our privilege this year to work with so many local partners and see many the lives of so many family members improved.
View 2018 Annual Report on issuu here.