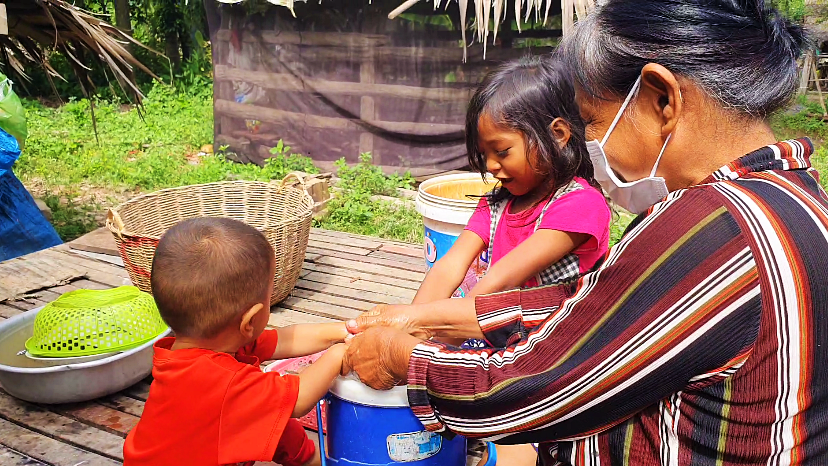 Grandpa Orb Chreung is 68 years old and grandma Chhun Leung is 60 years old. They live in Pursat Province.
Grandpa said, "I look after and take care for three grandchildren- a 17 months old and a five years old grandsons, and a seven years old granddaughter of my children. My son and his wife have migrated to work at Preah Vihear province for six months already. Another daughter and her husband have migrated to work in Thailand more than one year. My wife and I have joined in child caregiving topics education in April 2021 that facilitated by RCF (Reflect circle facilitator), supported by ADRA. I helped my wife to cook food and feed grandchildren. I give bath to a youngest grandson and put him sleeping under mosquito net at day and night times every day.
Grandma said, "I feed a youngest grandson with nutritious food like soft food with a variety of vegetables and meat, but sometimes feed him with family food and soup. After cooking, I add cooking oil into his food before feeding him. Now he looks stronger and has good health. My family has government ID poor I. His parents left him and migrated when he was 12 months old. He got exclusive breastfeeding for six months and started complementary feeding at six months old. I took him to health Center when he got diarrhea. Now he is nine kilograms of body weight and healthy!
The Best Community Household Opportunities through Improved Community Empowered Solutions (Best CHOICES) Project is supported by the Australian Government and ADRA Australia.