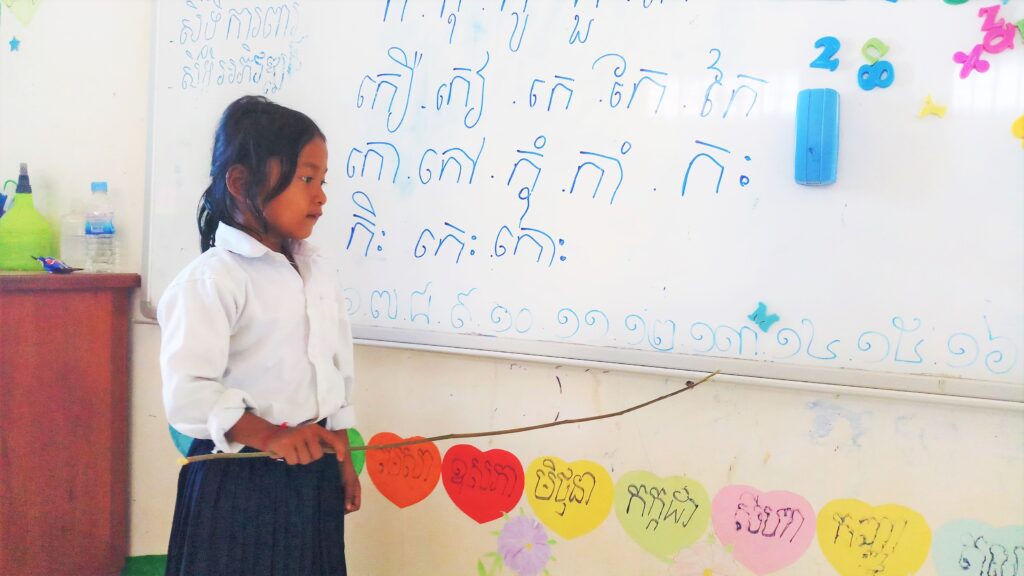 A preschool pupil Sreynorng Moa who lives in Pursat province is four-year-old. Her father's name is Moa and her mother is Eourm. Eourm was one of the participants who have received the sewing training supported by PAPSDA project. Sreynorng was gentle and quiet. The first day she started class, she was not energetic and she was frightened of other kids. She didn't even talk to the teachers.
Three weeks later, Sreynorng had built a good relationship with her classmates. She could play with other kids; share toys and any other things with others. She is brave to ask teachers questions politely and she is good at memorizing what teachers have taught her. She understands the difference between right and wrong, cleanliness and she is obedient. Her grandma is happy to hear all that and she always feels proud of Sreynorng.
Preschool is a part of the first foundation of children learning. They grow by learning through play. It is also a place where children learn to build a good relationship with others. Thanks PAPSDA for a huge change through supporting community preschool.
PAPSDA Model Village project is funded by the Papatoetoe Seventh-day Adventist Church (PAPSDA) and ADRA New Zealand.