Hello, my name is Chhorn Theara, I am 16 years old, I am from Kampong Speu province. Today I am a​grade 10 student at NCA (Neeson Cripps Academy), I have 4 siblings, I am the second child in the family.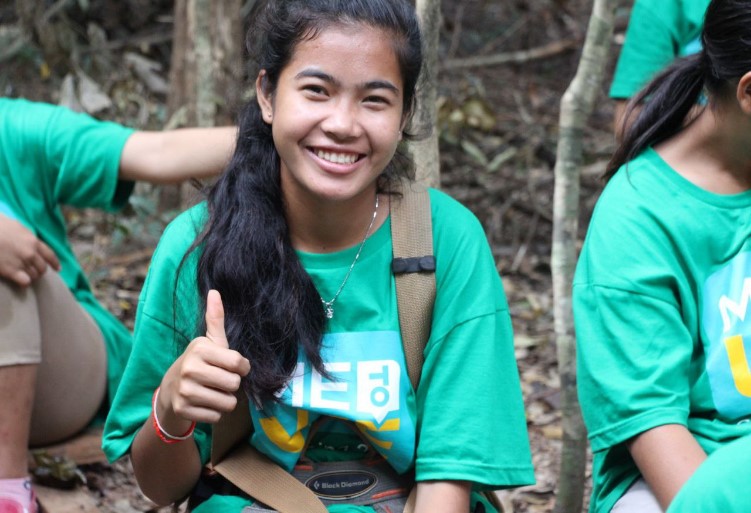 Day 1 activities
Upon arrival at Jombok Hoas, we had to individually prepare and arrange our belongings to our dorms. The teachers then introduced one by one and the staff there also advised and introduced places to stay. He then divided us into two groups to play games such as:
This activity requires two members, one to be a hawk and the other to be a mouse. And the one who is the mouse has to do or act whatever s/he wants so that all the members have to follow, the hawk to catch who the mouse is. Although I did not act like a mouse or a hawk, I did play and learn from these activities, such as:
Collaborate so that hawks do not easily catch mice.
The hawk must pay attention and listen quickly.
Mice need to be agile to switch to other activities.
      + Camp Description
The first day in the evening we played a game about magic nails, in which there are 12 nails. Also in the game, we are required to put the nails on top of each other, which demanded us to use in-depth thinking and discussion to achieve a game successful. 
Construction of Angkor Wat
This activity requires four members to sit in a chair, pretending to be blind. And they have a rubber band in the middle of the four strings, then each member has to hold one of strings, and we have to talk or tell each other how to pull the rubber to take the cans, and put it on top of each like the shape of Angkor Wat. And in this activity I learned:
Collaborate
Tell a blind person once to make it easier for him to hear well.
Do not blame each other
Must have good communication skills
Be creative, correct mistakes done
Marble Balls Crossing Streams
This game requires all members to play together. Each member has one side of pipe, but two full pipes, and one member to pour marble balls from one pipe to the other and not to fall, and the team only gives one minute to the 100 balls fall into the target container. This game failed at the first time, but all the members still work together to find new ideas, correct mistakes and do not give up, so we can succeed, dare to face obstacles, no matter how big or small it is.
This activity requires three members to wear a tube into one of their arms and attach a brace to the shirt without using the other hand. It took them a long time, but no one could do it. After a while, they came up with the idea of having one member remove the brace and attach it to the other, and we helped each other, succeeded all together. This activity I learned as:
Help each other
Collaborate to reach common goals
Have a good relationship
Be creative.
After playing these activities, we ate together. Then we had to join the group organized to learn the lesson: "Comparing the growth of mango trees between the developments of our daily lives. And we also explained to each other and had a few of our members present to other groups. Finally, we all have to go to our dorms to relax and be ready for the next activities tomorrow. 
Day 2 activities
Before trying this activity, I felt scared to try it because I had never dared to play such a high activity before. Because of my high determination to decide to play it, as for the team, they told me how to play this game and set up the helmet defense well, no problem at that time. As for my team members, they helped each other to pull the rope to get me to the height I wanted. Then I broke a key and suddenly fell back safely, and I was strapped to the guard ropes, swung back and forth a few times and then stopped. After playing this game, I did not think that I had the courage to take action to overcome obstacles at a time, and I was happy to see that both group members, staff, teachers know how to work together, help each other, pay attention, listen to various instructions.
For this activity, we first need to wear a safety harness and helmet, then the team has two members and tied a rope around the waist to climb the stairs with a partner to a tree about 20m high to jump. A piece of metal is swinging. As for me, before I started, I was scared and happy, when I went up the stairs, I talked to my partner about how to get up to the tree with ease and to all the goals. As soon as I arrived, I was terrified and my hands and feet were shaking. Before I started jumping, I clung to the team, did not dare to jump, then wanted to cry a bit, but I heard my team and partners who have already played, "Do not look down, do not be afraid to jump the ball. It's okay. "All of these words gave me more energy and I was able to grab the piece of metal today, I overcame two obstacles and the rest of the activities took place during the noon.
This activity is like the previous ones, the team told the analogy of wearing guard-ropes and helmet. We had to walk on the bridge from one log to another to reach our destination and walk back. As I sat watching my teammates play and thought it would be easy to do it quickly, I also said in my mind that short sticks are not at all scary, but in reality it is not like that. No. Each block was so far apart that it was difficult to get to the next block. I was afraid of falling, because while I was walking through, I looked down and saw it too high, the bridge was swinging, difficult to balance. But I did not give up, I walked on the bridge to my destination and walked back to where I was. In this activity, I also received encouragement from team members and staff team.
The second day after we had dinner, we had to gather under the main house to study the lessons in the book given. The lesson we learned that day was under the theme "ME TO WE". After listening to the explanations, it was time for us to explain in groups, and in addition, we in the group went up to give a presentation. When each group finished their presentation, we went to the house where they were assigned to sleep.
Day 3 activities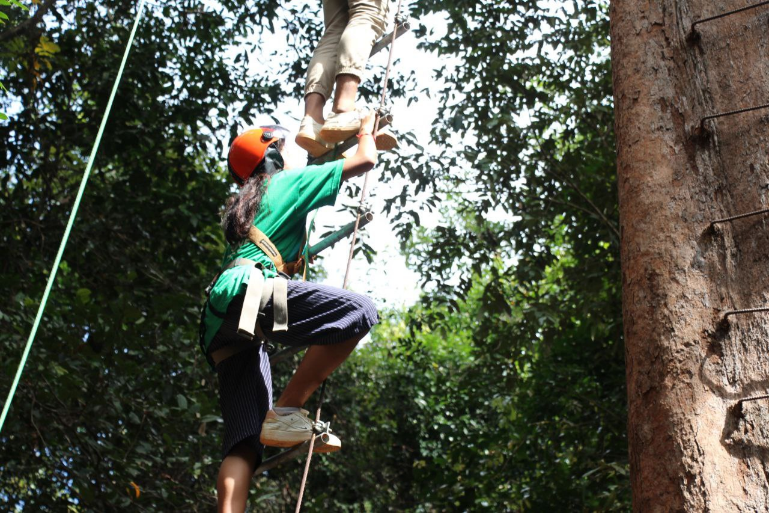 It was also the last day of the trip#2. After waking up, we went for a shower to refresh ourselves and we got together to warm up a bit before we went for breakfast. After breakfast, we also went on to play two games, the final games of our camp. The first game we have to play is to ride a cable car and the second game is to climb a magic wall. All the games are equally high, but the two games I played on the last day felt more fun and less scary than the second day. When all the games were over, we also had a 30-minute break. When it was time for lunch, we came to eat at the same place. At the end of the lunch, before we left for Phnom Penh, we also had a little discussion and gave appreciation letters and announcement of the weekly leader. Unexpectedly, I was the leader of the week as well. What is special is that this is the first time I have participated and received it. Before leaving for Phnom Penh, we had a happy photo shoot and said goodbye to the staff of Jombok Hoas.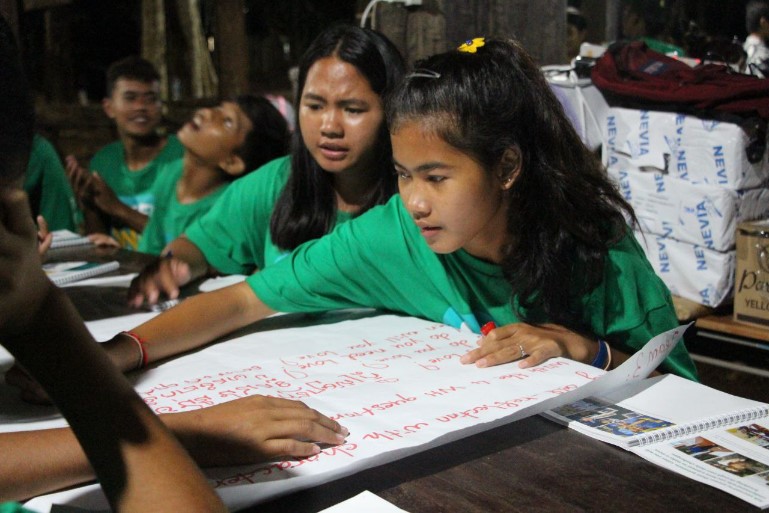 All in all, this is the first time to participate in this camp. I really feel strange and happy to camp for 2 nights and 3 days. Attending this camp taught me a lot about overcoming fear, patience, understanding each other, especially learning in groups. Not only that, after the camp, I shared with my friends about the process of this program from the tranquility in the forest, good fresh air, especially the staff or team of Jombok Hoas have really good technique and make me have a high level of confidence in the game, which means that before we started playing, they always check to ensure our safety. The staff also provided us with good service. Finally, participating in this program is really fun and can overcome our fears, although some games scared me, but not a problem, I could still overcome it. Thanks also to the staff team at Jombok Hoas for providing adequate food, clean beds, new knowledge, always keeping us safe, and thanks to the CCF staff for their encouragement, motivation, advice, knowledge and care all students. Thank you!