Best CHOICES – Best Community Household Opportunities through Improved Community Empowered Solutions
Date: 1 July 2019 to 30 June 2024
Area: Bakan District, Pursat Province – 50 villages (25 new and 25 former from the CHOICES for Children project
Primary Project Beneficiaries: 6,163 Women, Men, Boys, and Girls
Secondary Project Beneficiaries: 8,580 Women, Men, Boys, and Girls
Budget: Total 2,530,927 AUD
Donors: Department of Foreign Affairs and Trade (DFAT) Australia and ADRA Australia

ADRA Cambodia has managed participatory development projects similar to Best CHOICES for over 20 years.  Relevant key areas of expertise and experience include usage of the REFLECT self-help group empowerment methodology, gender sensitive methods and tools for improving understanding and inclusion, understanding of the MOH health system and particularly community-based behavior change interventions, water and sanitation promotion, and agriculture/livelihood interventions. Nationally ADRA has strong financial, monitoring and evaluation (including use of LOGALTO), public relations and marketing, and Connections volunteer group support.
The Best CHOICES project aligns with the general focus as well as the methods of ADRA Australia. Programmatic focus is on community/family health, water and sanitation, and economic development through sustainable livelihoods promotion. The project integrates Lifestyle Health interventions and seeks to promote environmental protection. The developmental methodologies used will include gender inclusive participatory methods including social inclusion methods.
Challenges: The primary issues identified by both local community members, local and provincial authorities include multiple dimensions. Poverty and child malnutrition/stunting and slow cognitive development have a proven relationship as children in poor households (HH) have little access to clean water, sanitary latrines or effective health care in addition to their more limited access to nutritious foods. Therefore, ensuring proper care and development for young children, including maternal and child nutrition as a need. Parents and especially the increasing percentage of older aunties and grandma's caring for small children (as a result of increased migration) still have poor knowledge of child feeding and care practices that will prevent malnutrition within the first 1000 days of a child's life.
The project is developing and growing through home gardening (nutrition focused) agriculture and livelihoods training activities. The project contracts external trainers, the private sector and Provincial and District government departments, to provide technical training in areas such as vegetable planting, tailoring, beauty skills, machinery repair, and social marketing. Along with the provision of training, the project also aids in searching for suitable markets for the small business enterprises that are established.
The project works to engage local tradesman and local suppliers to sell local products such as water filters, latrine parts, and agriculture inputs. The project works directly with private sector WASH suppliers in providing services to community members. Reflect Circle members who meet specific criteria are given discount vouchers for water filters and latrine supplies and installations with these WASH supplies. It is expected that these relationships will be mutually beneficial and contribute to the sustainability of the WASH suppliers to continue these WASH project activities after the project ends.
 Brief Project Description
The "Best CHOICES" project is working for the vulnerable families within 50 underserved rural villages of Bakan district.  The project is focusing on addressing key root causes of poor maternal and child nutrition and family financial insecurity in the rapidly changing economic landscape. Key project objectives are 1) increasing safe effective resources and values-based decisions being made regarding labor migration, 2) improving community health seeking behaviors (nutrition, NCDs, Hygiene), and 3) increasing livelihood income skill, opportunities and stability for their families. 
The project will continue to use the REFLECT participatory approach with adjustments based on lessons learned and the current REFLECT evaluation.  Additionally, the project will attempt to integrate the recently learned principles of the Values Based Approach.  The core Universal Values that have been chosen are 1 Healthy, 2 Family Security, 3 Mature Love, 4 Self Discipline, 5. Meaning of Life, 6. Responsible, 7. Equality and 8. Protecting the Environment. 
RC facilitators have been trained in behavior change group facilitation skills and mobilize multiple women's, men's, and child RC groups in each village over two subsequent phases.  These community groups will be led through a series of discussion-action topics including assessing their communities' developmental needs and challenges, prioritization, child-care and empowerment (LTP), and Maternal and Child health and nutrition and feeding/care practices. Positive Deviant Hearth will be used for learning, assessment and community-based rehabilitation of malnourished children and to reinforce key behavior factors to prevent malnutrition. These interventions work closely with the local health centers to link communities with the MOH rehabilitation protocols for severely malnourished children.  
RC Sessions on healthy family lifestyle behaviors, decision making and safe migration, WASH/waste management, and Livelihoods have been facilitated in target areas leading to complimentary interventions. Pre-migration training and awareness will be complimented with establishment of a Migration Resource "HUB" at the Bakan District "One-Stop" service center with connections to each Commune office. NCD Lifestyle Health promotion using the "LiveMore" contextualized CHIP Health model has been conducted including advocacy with and training of Ministry of Health officials at all levels. 
Safe-clean environment promotion will include Community Solid Waste Management (SWM) system training and planning with community leaders. This will include providing training facilitation of implementation of viable, proven SWM plans/systems starting at the local Commune and village levels. 
Finally, livelihood and work ethics training have been provided to the interested at risk families for both local and migratory work skills. Additionally, specific skills and trades have been identified by the communities for training including, sewing skills including those applicable at garment factories, vehicle/motorbike repair and service, agricultural machinery repair, post-harvest food processing, middle-man marketing, distribution and sales, hair dressing and beauty skills, and recycling of materials.  

Project Log-Frame
Project Goal 

Improved family financial security and well-being for poor and vulnerable households in Bakan District, Pursat Province, Cambodia

Outcome 1:    

Increased safe effective labour migration resources in place and values based decisions being made based 

·        Increase in trained HHs with migrating members who have acted on pre-migration/anti-trafficking plans for international migration.

·        Child caregivers have confidence on decision making about major HH decisions that impact children's nutrition and development.

·        People who have migrated (Female, Male) utilize pre migration/Anti-trafficking services (prior and/or during migration).

Outcome 2:

To improve HH and Community Health (Nutrition, Non-Communicable Disease, Hygiene) seeking behaviours for parents and caregivers.

 

·        Increase of parents and caregivers able to recall at least 3 key child diet/feeding messages over X in baseline survey.

·        Increase in children 0-5 (girls and boys) receiving adequate nutritional dietary foods over X in baseline survey.

·        Households with access to sanitary latrine.

·        LMA participants (female and male) make at least 3 lifestyle behavior improvements

Outcome 3:

Livelihood income skills, opportunities, and stability increased for 547 poor and vulnerable households in Bakan district.

 

·        Trained households utilizing new vocational livelihoods

·        Increase in level of confidence of women and men trained households vocational livelihoods and responsible work ethics

·        Poor women and men who increase incomes

·        P&V HHs with access to savings and loan services

·        Poor women and men who increase their access to financial services
CROSS CUTTING ISSUES
Existing in the communities are cases of domestic violence and abusive discipline, exposure to poor water quality, sanitation and environmental health risks, unbalanced or insufficient nutrition, and limited access to early childhood education opportunities from caregivers. The project approach to gender equality and empowerment is seen as an integrated and must be holistic and balanced.
The Best CHOICES project seeks to establish a project culture with partners who are sensitive to the special needs of the disabled and to expect that arrangements are made for their inclusion where at all possible.
The major project evaluation activities are also guided by the M&E framework. These include:
a) The initial Baseline analysis including Anthropometric study.
b) Ongoing monitoring of data and progress. This includes facilitating the community RCs to conduct their own Participatory Evaluations (PE) annually using semi-quantitative methods within groups so that they can monitor their progress towards expected outcomes.
c) Mid-term quantitative and qualitative survey evaluation conducted by ADRA Australia in the 3rd quarter of project year 3.
d) End-line quantitative and qualitative survey evaluation conducted by an external consultant approximately 3 months from the project end.

Latest stories from Best CHOICES project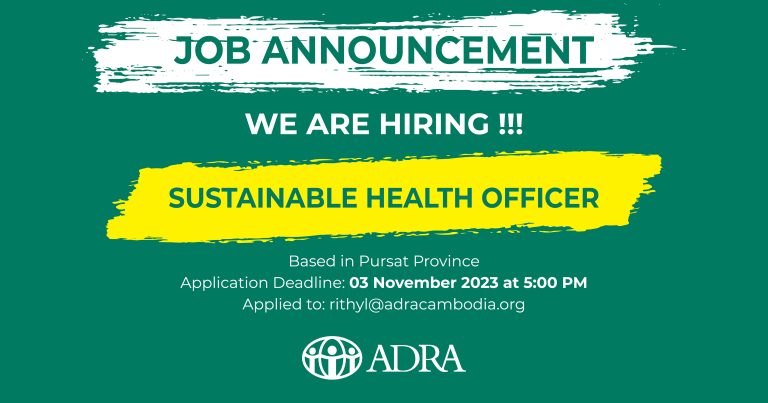 Best CHOICES Stories
The Adventist Development and Relief Agency (ADRA) has been operating in Cambodia Since 1988 as the global humanitarian of Seventh-day Adventist Church. As and international development and relief agency, Currently ADRA Cambodia is looking for a Cambodian qualified applicant to implement the project entitled Best Community Household Opportunities through Improved Community Empowered Solutions "Best CHOICES" with funding from Department of Foreign Affair and Trade (DFAT), ADRA Australia.
Read More
follow and like Best CHOICES project on facebook