Jombok Hoas Adventure Learning Center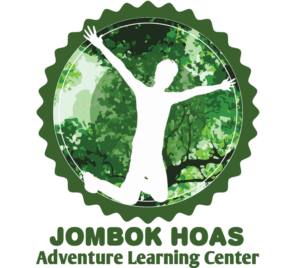 "Jombok Hoas" refers to the trees found in abundance at our Adventure Learning Center-and the ability to fly. And yes, people really can fly if they believe in themselves and have experiences that collectively encourage them in whatever they wish to do.
Jombok Hoas is about creating experiences and showing people that with a little belief in themselves and in what they, together with their friends and community can do, then they can really do anything … and be anything that they want. Principles learned here can be actively applied in our lives for the betterment of ourselves, our families and our communities. Jombok Hoas is a non-profit facility operated since 2004 by the ADRA Cambodia.
Adventure Learning Objectives:
Situated in the dense forests of Preah Vihear, Jombok Hoas was created to give Cambodians an opportunity for increasing various life skills through Adventure learning. Jombok Hoas has developed adaptable programs for diverse groups that work towards the following objectives: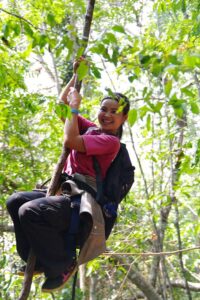 Building Trust
Thinking Creatively
Finding Solutions
Helping Others
Empowering Individuals
Developing Team Support
Increasing Self-Confidence
Active Communication
Environmental Awareness and Education
Jombok Hoas' capacity building and behavior change programs have been designed to create positive and lasting change in your workplace, organization team, target community group or development partner group. Since 2004 over 150 groups totaling over 6,000 participants have been impacted through this experience including NGO teams, government partners, community development facilitators, students and youth, and vulnerable and at-risk groups. Programs focus on identifying and nurturing leadership and team building skills in addition to personal growth and self-confidence. A variety of physical activities, and personal and group initiative exercises stimulate active communication, problem solving skills. These challenge individuals and teams beyond their perceived boundaries enabling them to realize great achievements… while some activities are just plain fun! Facilities are available for integration of group meetings and workshops along with the Adventure Learning activities.
An important factor for learning is the post-activity reflection time, conducted by experienced Khmer facilitators. Each debrief-time enables participants to share what they have learned and how they can apply this skill in their lives. It allows conflict to occur in a non-threatening environment enabling participants to constructively learn approaches to deal with it, as well as turning it around for the good. Physical challenges are also used as representing life's challenges and showing that a positive attitude and group support can be the difference between success and failure.

Activities:
Participants are able to experience a variety of high and low activities, all situated in the forest environment of Jombok Hoas, including repelling, high wire walking, 2 zip lines (250 and 600 meters), giant swing, a cable bridge and canopy walk, giant spider web and many others. Adventure learning activities can be integrated along with additional group training or discussion by external facilitators to further meet the objectives for the participant group.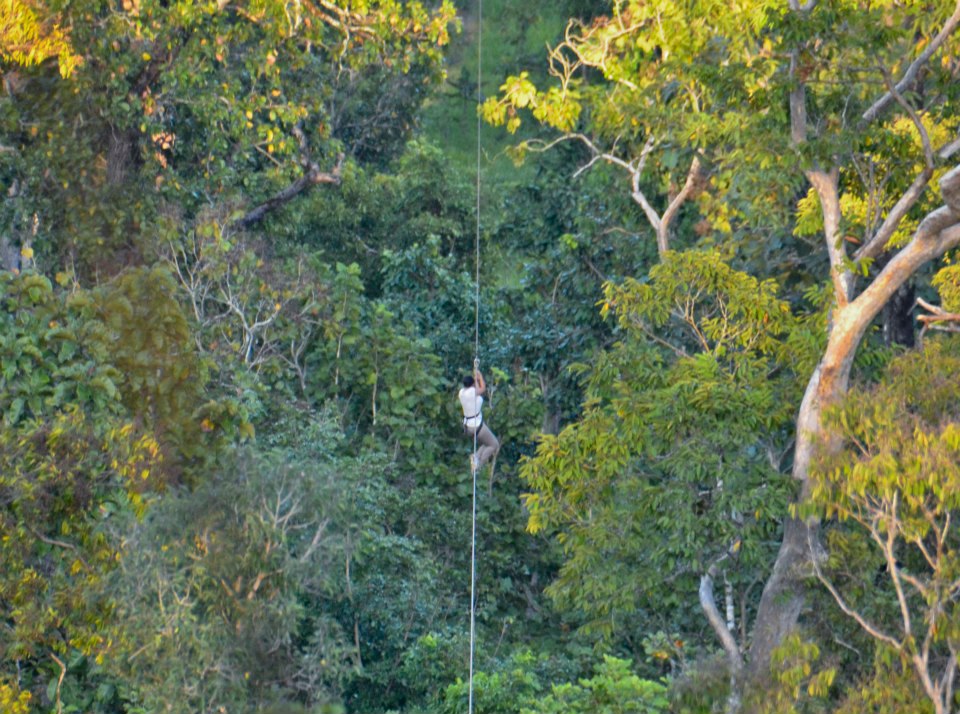 Below is a list of available activities. While some names of some are self-explanatory, most of them must be experienced to be fully understood.
ACTIVITIES

Learning jungle tree names

Engagement Ring

Stick Figure

Rope tangle 2 Jombok Monkey 

Treasure Island

Bungee Jump

Island 

Challenge/salvation

Turbulent Ladder (stairway to Heaven) 

Reflect on lessons from nature

Helium stick

Complete the mission
Group Size:
Group sizes from 15 to 30 participants are most effective however smaller or larger sizes up to 50-60 may be accommodated where necessary. Participants should be at least 12 years old and be in good general health. Types of groups that have experienced Jombok Hoas include NGO staff, School Students, Businesses, Community members, Volunteers, Community Based Organizations and Disadvantaged Youth.


Length of Stay:
In order to fully realize all the learning opportunities Jombok Hoas has to offer, 3-4 day programs are best (generally Monday afternoon-Friday morning). 1-2 day programs can also be designed for groups working under time constraints. Talk to our staff about your learning requirements and objectives and programs can be tailored for your learning objectives. Also, contact us early if you are wanting a specific week as group schedules are often made far in advance for a particular time frame.
Staffing:
There are currently 4 activity facilitators (2 female) and 3 support staff at Jombok Hoas. 2 key staff have been trained by Australian outdoor educators. An expatriate advisor supports this team and facilitates arrangements for specialty group situations.

Facilities / Accommodations:
The broad objectives of Jombok Hoas program also include raising environmental awareness and encouraging sustainable use of natural resources. As such, staff have chosen to utilize only dead or uprooted trees for all construction purposes on the site. The layout of buildings and activities have also taken advantage of naturally occurring cleared areas in order to conserve as much of the existing forest as possible.
Facilities include:
Large open meeting center (lodge) (8 x 12 meters)
Four bungalows (including 1 tree house) 4 x 5 meters each
Basic sleeping equipment (mattress, mosquito nets for up to 50-60 persons)
Latrines (5 Asian-style, 2 western)
Full time electricity via solar power and on-site generator
Meals:
Khmer/Asian meals are prepared on site by Jombok Hoas staff for your convenience however groups wishing to cook or themselves may do so with permission. For groups preferring specialty foods or having specific dietary needs arrangements can be made with management in many cases. As Jombok Hoas is a Seventh-day Adventist institution, pork is not served by our cooks and no alcoholic beverages or tobacco products are allowed on site.
Cost:
Fees for groups are based on the number of days of activities. Funds received are used for ongoing operation costs of Jombok Hoas and site maintenance and development. Fees include activities and accommodation on-site and food is based on a per meal rate. The minimum group size is generally 15 persons though smaller groups may be arranged.
| | | |
| --- | --- | --- |
| Schedule of Fees Per Person | Program | Program |
|   | 1-2 days | 3-4 days |
| Local NGO | 70 USD | 75 USD |
| International NGO/Business | 80 USD | 90 USD |
| | |
| --- | --- |
| Meals-Khmer | 7.5 USD per day / 2.5 USD per meal |
The Jombok Hoas Facilities may also be utilized for workshops without the adventure learning program at a rate of 135$ per day (55$/day + 80$/night) if there are no Adventure Learning groups scheduled for that time period.
A number of discounts may apply to save costs including
50% off for participants over 25 persons in any one group.
50% off for participants over 20 persons in any one group if the institution sends more than one group per year.
No activity fee for up to 2 chaperones or NGO/institution facilitators for each 15 participants.
When available – single day, non-overnight, activity rate of 15$/person. (May be applicable with a multi-day workshop use of the facilities as mentioned above.
Special partnership and other rate discounts can be arranged depending on need, negotiation, and availability of special support.
A 100USD deposit is required for new partner organizations or institutions refundable if a cancellation is made earlier than 3 weeks before the scheduled activity week.
Location and Transportation:
Jombok Hoas is situated in a hilly area of mixed primary and secondary forest on the northern border of the Bung Pey Wildlife sanctuary. It lies approximately half way between Kompong Thom city and Tbeng Mean Chey (the capital of Preah Vihear), and takes about 5 hours by car from Phnom Penh. There is regular public bus service from Phnom Penh (to the Rovieng district) or return which passes directly in front of the Jombok Hoas entrance. From Kompong Thom take the main road (Rt. 64) approximately 75 KM. toward Preah Vihear. At Phnom Dike village, turn right on a newly paved road and go 4 km to Sry Tnong village. The entrance to the Adventure site is just past the village on the left hand side of the road. (See map below)
References and Testimonials
Logos International School
"Our students have had a fantastic time at JBH over the past two years. They have been stretched and challenged; the activities have been top notch!"
– Dan Hein, Principal
Contact info: [email protected], 023-885-170
"Our last two years at Jombok Hoas have been incredible times, and we would love to be able to bring all the high schoolers again." "…camp was a huge success, once again. The staff was in tiptop form and did such an incredible job facilitating all 62 of us. The …organization of activities was smooth, and God used the week to transform and teach and mold all of us. We are so thankful for ADRA's ministry in Cambodia – it has been such a blessing to Logos the last 2 years." 
" I hope and pray that all the staff felt loved and appreciated by us throughout the week and that our large size was not too much of a burden on them. We enjoyed working with them; they are quality." 
"We had a wonderful time and were so thankful that you were able to accommodate our large numbers. We've hardly been able to stop talking about how much fun we had, what good experiences the students had, etc. We, as well, are hoping very much to come back, as we've seen that the students greatly benefited from all aspects of the camp. We have so many good memories!"
–Megan Roberts, faculty
Contact info: [email protected], 092-188-214
World Vision Cambodia
"Peer educators and club leaders including project staff learn a lot from the exercises; participants earn another step of knowledge which can be applied in the community. I find that style of learning (put man into the real situation/learn by doing …) [is] the best and effective method for participatory learning because they use their own character and abilities, they can come up with new initiatives through this exercise upon the return. Another thing [the training] builds up their mind and heart [to be] strong, confident/brave and need new success. They also uild strong unity in their groups. We were happy with clean and fresh environment there and also appreciate and admire of commitment of your team to make such [an] amazing place happen; as my memory is good, i guess there is the only such Adventure training place (JBH) in Cambodia."
–Soeum Vanna, Project Manager, Children at High Risk Prevention Project,
Education Program
Contact info: [email protected], 012 948 805
Latest stories from Jombok Hoas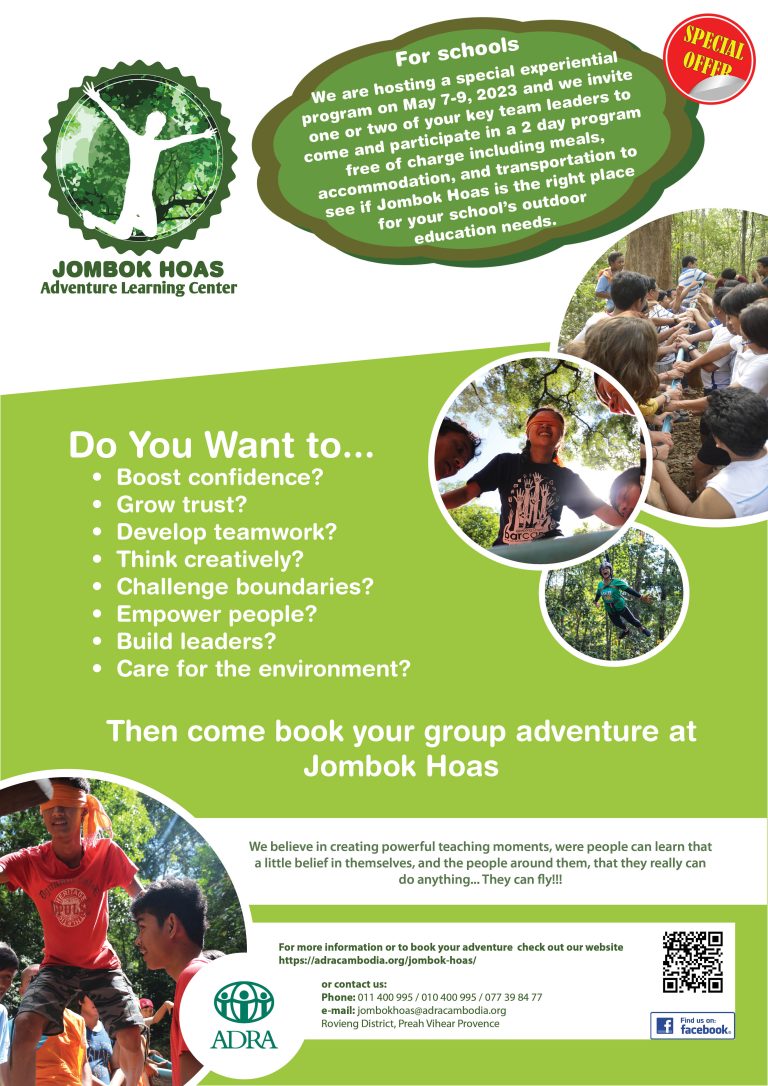 Jombok Hoas Stories
We are hosting a special experiential program on May 7-9, 2023 and we invite one or two of your key team leaders to come and participate in a 2 day program free of charge including meals, accommodation, and transportation to see if Jombok Hoas is the right place for your school's outdoor education needs.
Read More
follow and like jombok hoas on facebook